A psychological disorder is a condition characterized by abnormal thoughts, feelings, and behaviors. Psychopathology is the study of psychological disorders, including their symptoms, etiology (i.e., their causes), and treatment. The term psychopathology can also refer to the manifestation of a psychological disorder. Although consensus can be difficult, it is extremely important for mental health professionals to agree on what kinds of thoughts, feelings, and behaviors are truly abnormal in the sense that they genuinely indicate the presence of psychopathology. Certain patterns of behavior and inner experience can easily be labeled as abnormal and clearly signify some kind of psychological disturbance. The person who washes his hands 40 times per day and the person who claims to hear the voices of demons exhibit behaviors and inner experiences that most would regard as abnormal. Abnormal refers to beliefs and behaviors that suggest the existence of a psychological disorder.
On the other hand, consider the nervousness a young man feels when talking to attractive women or the loneliness and longing for home a freshman experiences during her first semester of college—these feelings may not be regularly present, but they fall in the range of normal. So, what kinds of thoughts, feelings, and behaviors represent a true psychological disorder? Psychologists work to distinguish psychological disorders from inner experiences and behaviors that are merely situational, idiosyncratic, or unconventional.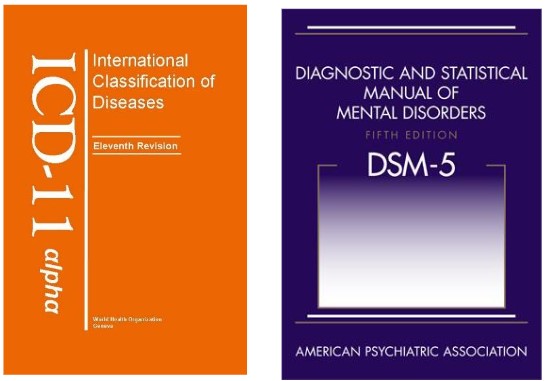 Progress in the treatment of mental illness necessarily implies improvements in the diagnosis of mental illness. A standardized diagnostic classification system with agreed-upon definitions of psychological disorders creates a shared language among mental health providers and aids in clinical research. While disorders have been recognized as far back as the ancient Greeks, it was not until 1883 that German psychiatrist Emil Kräpelin (1856–1926) published a comprehensive system of psychological disorders that centered on a pattern of symptoms (i.e., syndrome) suggestive of an underlying physiological cause. Other clinicians also suggested classification systems that became popular but the need for a single, shared system paved the way for the American Psychiatric Association's 1952 publication of the first Diagnostic and Statistical Manual (DSM). The most recent version is the DSM-5 (2013). Each revision reflects an attempt to help clinicians streamline diagnosis and work better with other diagnostic systems such as health diagnoses outlined by the World Health Organization (WHO).
Summary
Psychological disorders are conditions characterized by abnormal thoughts, feelings, and behaviors. Although challenging, it is essential for psychologists and mental health professionals to agree on what kinds of inner experiences and behaviors constitute the presence of a psychological disorder. Inner experiences and behaviors that are atypical or violate social norms could signify the presence of a disorder; however, each of these criteria alone is inadequate. Harmful dysfunction describes the view that psychological disorders result from the inability of an internal mechanism to perform its natural function. Many of the features of harmful dysfunction conceptualization have been incorporated in the American Psychological Association (APA) formal definition of psychological disorders. According to this definition, the presence of a psychological disorder is signaled by significant disturbances in thoughts, feelings, and behaviors; these disturbances must reflect some kind of dysfunction (biological, psychological, or developmental), must cause significant impairment in one's life, and must not reflect culturally expected reactions to certain life events.